Truro hospital's admissions lounge used for beds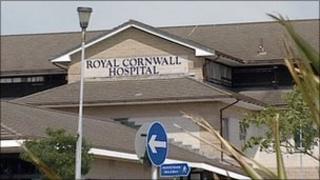 Beds have been set up in an admissions lounge at a hospital in Cornwall to help cope with an "unprecedented" rise in patient numbers, health bosses say.
The Cornwall Primary Care Trust (PCT) said a surge in emergency cases had increased pressure on beds at Truro's Royal Cornwall Hospital.
It said people should think carefully before using the hospital's Accident and Emergency Department.
They should consider using out of-hours GPs or other services, it added.
Minor injury units or NHS Direct could be used if patients' conditions were not serious, the PCT said.
'Intriguing' increase
The director of nursing at the PCT, Carol Williams, said admissions had risen by about 10% within a fortnight during a time of year that "one would expect to be relatively quiet".
She said the rise was not due to any particular condition, which was "intriguing".
She said: "For some reason, we've had this late surge entering spring after a very mild winter.
"It was a fairly calm period across Christmas and the new year.
"We've had no surge in the number of people with flu, and we don't have any significant norovirus in the community, or any particular bugs."
She said staff were doing all they could to create extra beds to meet demand.
She said: "Wheal Agar ward reopened on Monday and there have been some surgical beds converted into medical beds.
"Extra beds have also been opened in West Cornwall [Hospital in Penzance] and the [Truro] admissions lounge has been turned into a bedded unit.
"So, more beds have been put in to cope with the pressure."