St Piran's Day: Cornwall marks patron saint of tinners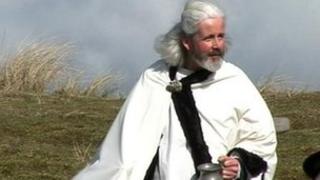 People across Cornwall have celebrated the patron saint of tinners.
Events to mark St Piran's Day included a march across the dunes at Perranporth on Sunday to to re-enact St Piran's arrival in Cornwall from Ireland.
According to legend, St Piran was flung into the sea in the 6th Century by the kings of Ireland who were jealous of his healing powers.
Despite having a millstone around his neck, he did not drown - but "floated" across the sea and landed in Cornwall.
Capital parade
St Piran's Oratory at Perranporth is thought to be one of the oldest Christian buildings in Britain.
The annual processional play at Perranporth this year was led by "St Piran" - played by local actor Colin Retallick.
Tin is said to have been "discovered" by St Piran when his black hearthstone became so hot, tin began to melt out forming a white cross on the black stone - represented on the Cornish flag.
In Truro, the county's capital city, local schools, businesses and residents took part in the St Piran's Day parade.