London 2012: RNAS Culdrose prepares for Olympic torch arrival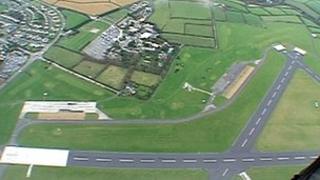 A military air base in Cornwall has confirmed a "familiarisation exercise" has taken place ahead of the Olympic torch arriving.
A British Airways aircraft landed at RNAS Culdrose earlier to enable air crew and Olympics personnel to familiarise themselves with the base.
The torch will arrive at RNAS Culdrose from Greece on 18 May before starting a 70-day, UK-wide tour from Land's End.
It will arrive at Stratford's stadium on 27 July for the opening ceremony.
The base, on Britain's most southerly point, the Lizard Peninsula, opened in 1947 with an operational expectancy of just 10 years.