Wrong-way A30 death crash driver David Rushbrook jailed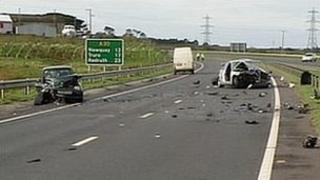 A man who drove the wrong way down a dual carriageway in Cornwall, causing a fatal crash, has been jailed for eight years.
David Rushbrook, 27, of King's Lynn, Norfolk, had done a U-turn to return to a garage he had passed on the A30 before the crash in October 2010.
Margaret Connelly, 39, of Newquay, died when he hit her partner's car between Highgate Hill and Victoria near Bodmin.
Truro Crown Court heard Rushbrook had taken the drug ketamine.
'Impaired by tiredness'
Judge Philip Wassall said: "It was a catastrophic decision which had a massive impact on all those involved."
Ms Connelly was a front-seat passenger in her partner's Mercedes when Rushbrook struck their car.
The driver Nicholas Rowles was in hospital for three weeks.
Rushbrook's passenger Joanna Mansell received serious injuries in the crash, was in a coma for three weeks and remained in hospital for three months, the court was told.
A couple in a Nissan Micra were also injured in the collision.
The judge said it was "mystifying" that Rushbrook had thought he was on a single carriageway when he decided to try to return to the garage.
The combined impact speed between Mr Rowles' and Rushbrook's cars was estimated to have been between 130mph and 140mph, the court heard.
Previous convictions
Judge Wassall said Rushbrook's judgement must have been impaired by tiredness, as he had been to work before embarking on a long journey, or the drug ketamine, a horse tranquiliser the defendant had admitted taking.
He was given credit for his late guilty plea to having caused death by dangerous driving, but the judge said his previous convictions included one disqualification for drinking and driving in 2006 and another in 2008.
Rushbrook has been banned from driving for 10 years and until he passes an extended driving test.
The collision led to both carriageways being shut for 13 hours.
Correction 7 March 2012: An earlier version of this story mistakenly said Rushbrook's car had been travelling at 140mph at the time of the crash. The story has been amended to make clear the combined impact speed was between 130 and 140mph.