Hawk jet and Merlin helicopter's 'near miss' at RNAS Culdrose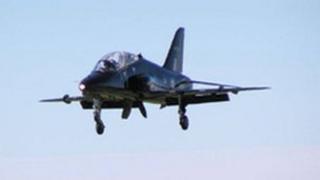 Two military aircraft were involved in a "near miss" at RNAS Culdrose in Cornwall, according to a report.
Details of the incident which happened last September, have been published by the UK Airprox Board (UKAB).
The Merlin helicopter and Hawk training came within within half a mile (0.8km) of each other horizontally, but were only 100ft (30m) apart vertically.
The report said the Hawk pilot had not followed the correct procedures while approaching Culdrose.
UKAB is funded equally by the Civil Aviation Authority and the Ministry of Defence.
The report examines what lessons can be learned when the distance between aircraft - as well as their positions and speed - compromise, or could have compromised aircraft safety.
According to the findings, the Hawk pilot knew there were two Merlin helicopters in the area and had made visual contact with them, but as he approached the air base he was unaware of a third helicopter between his jet and the naval air station's runway.
'Very high risk'
When the pilots saw each other the Merlin pilot reported a "very high risk" of collision and said he had no time to take evasive action.
All such incidents are investigated using the Defence Aviation Error Management System (DAEMS), with the findings published by the Airprox Board.
Its latest report said of 20 incidents of "conflict in airspace" nationally, the Culdrose one was the most serious and the only one to be given a "category A" classification.
In the report's recommendations, the board called for a review of "recovery procedures" for when both fixed wing aircraft and helicopters are coming in to land.
The importance of all crew members being involved in "lookout" in a high traffic density environment was also highlighted.
A statement from RNAS Culdrose told BBC News: "The Culdrose recovery procedures were reviewed as a result of the DAEMS recommendation, no changes were made.
"The Hawk pilot did not follow Culdrose recovery procedures and flew into conflict with Merlin, which he did not see."