Penzance Remploy staff 'shocked' at closure plans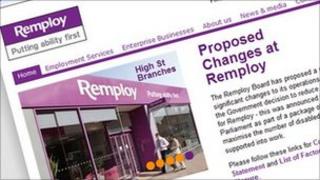 Staff at a factory for disabled workers in Cornwall say they are shocked that the government may shut it.
The Remploy plant in Penzance is one of 36 around the country which ministers say are making a loss.
If closed, 32 Cornish staff would be affected, union members said. The plant makes seats for the car industry.
Staff member and GMB union member Colin Gray said such a move would cause "heartache and suffering".
Social contact
Remploy factories were established 66 years ago as part of the creation of the welfare state.
Workers are employed in enterprises that vary from furniture and packaging manufacturing to recycling electrical appliances and operating CCTV systems.
Minister for Disabled People Maria Miller saidthe 36 out of 54 sites acorss the country could be closed by the end of the yearas they were not financially viable.
The plans are putting more than 1,700 jobs at risk nationwide.
Mr Gray, who is also the Penzance plant health and safety officer, said its closure would cause staff "real problems" in their lives, not just their employment.
He said: "The trouble is, being disabled, for a lot of these people, their only social contact is coming to work.
"For a lot of them, it's the only hot meal they get many days as we've a canteen here.
"They will just fade away, just fade into the background."