Burial and cremation charges to rise in Cornwall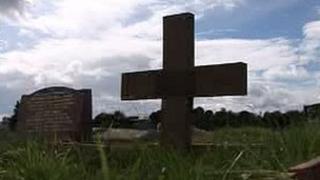 Some burial and cremation charges in Cornwall will increase by hundreds of pounds from April.
Cornwall Council said the move was necessary to standardise prices across the county's former district and borough councils.
A local funeral director has criticised the rise, claiming that some people already struggle to pay existing costs.
In some instances, charges will more than double, but the council said no revenue would be generated by the rise.
The council said when the unitary authority was formed in 2009, it inherited four "very different" sets of fees for burials.
"This meant people in some areas were charged almost double that of others, depending on the subsidy from the district council concerned," it said in a statement.
'Grossly unfair'
The former Kerrier district - which includes Camborne, Redruth, Helston and Porthleven - will see some of the biggest increases.
A full body burial in a new grave, which currently costs £614, will rise to £1,305 from 1 April, while the cost of a cremation - where the remains are then buried - will increase from £164 to £650.
Vincent Young, from Colin Matthews Funerals in Camborne, said: "Cornwall historically is a very low income county and it's difficult enough for most of our families to afford the costs as they are now."
Mr Young said the increase would result in families not being able to afford a standard burial.
"I think it's grossly unfair," he added.
Council spokesman Julian German said it was a "sensitive subject" and the decision to increase costs had been a difficult one.
He said: "We're trying to get a price that's realistic for the cost of the service and the charges are comparable to other authorities in the South West.
"It means that wherever you are in Cornwall you'll pay the same price for the same service."
Cornwall Council pays for the maintenance of cemeteries and safety checks on memorials.
It has 24 operational cemeteries, 10 closed cemeteries - where no full grave spaces remain - and it also maintains more than 50 closed churchyards.