Cornwall's foodbank agencies targeted by 'intimidating' group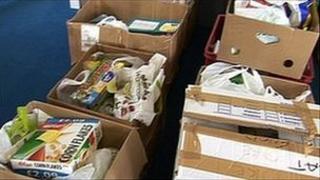 People involved in a foodbank project in Cornwall have been intimidated by a group seeking vouchers they were not entitled to, organisers said.
Up to 20 people verbally abused staff at two voucher distribution centres in Camborne, said The Reverend Mike Firbank who is involved in the scheme.
The group, which took about six weeks' worth of food cheques, has been reported to Devon and Cornwall Police.
The vouchers allow people in need to receive donated food supplies.
A number of health professionals, care agencies and some charitable organisations provide the vouchers.
Father Firbank said: "They [the group] will start with a sad story... it then turns into an aggressive tirade of verbal abuse and emotional tactics.
"When you have a group of 20 or so people and there's one or two support workers, the presence is very intimidating."
He added that those involved in the abuse would no longer be allowed in the centres.