West Cornwall Hospital to get urgent care centre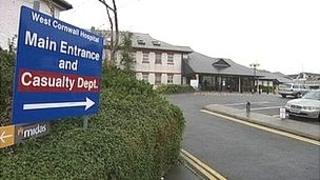 A new urgent care centre is to be opened at West Cornwall Hospital in Penzance for a 12-month pilot scheme.
The news, announced at a public meeting on Wednesday night, confirmed proposals for 24-hour doctor cover which were first put forward in January.
Hospital doctors and GPs would work together to provide the service, the Royal Cornwall Hospitals Trust said.
The unit would have staff from a combination of the current casualty unit and an acute GP clinic, it added.
The centre is due to open in May.
Local people have been worried about the hospital's future for a number of years.
In 2007, about 20,000 people protested when the Penzance hospital was threatened with closure.
Last November, it then revealed the hospital casualty unit's late shift had been run by a nurse for a year after the trust failed to recruit a doctor.