Rock Oyster Festival licence issues resolved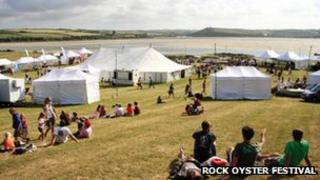 A food, music and arts festival in Cornwall, which had been in doubt, will go ahead this summer.
Ticket sales for the Rock Oyster Festival were suspended last month after organisers said new licence conditions made it "unworkable".
The conditions were noise limits, imposed by Cornwall Council after a complaint about late-night noise.
However, the council said issues had been resolved in a way that would allow the festival in St Minver to go ahead.
Last year about 3,000 people attended the festival, which includes an oyster-shucking competition and demonstrations by local chefs.
'Overwhelming support'
Allan Hampshire, the council's head of public health and protection, said: "We have worked hard to support the festival and ensure that it can still go ahead in a way that both protects the neighbours from excessive disturbance and enables a full and exciting event."
Festival organiser Charlie Anderson said the support from the local community had been overwhelming and he was delighted the weekend event would go ahead from 22 to 24 June.
"Thankfully we can now concentrate on pulling together our plans to ensure that this year is the best Rock Oyster Festival ever," he said.
The terms of the new conditions would mean residents living near the festival site would be "fully protected".
"We will make every effort to work with all our neighbours to ensure that the full benefit of the festival can be enjoyed by both local businesses and residents."