Jamaica and Falmouth in sister port agreement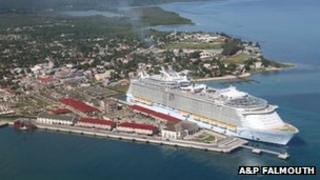 A sister port agreement between Falmouth in Cornwall and Falmouth in Jamaica has been signed.
It is hoped the agreement, signed in America, will promote goodwill and economic benefits between the two.
Sister porting is used in the marine industry as an opportunity to share expertise and knowledge.
Falmouth in Jamaica was founded in 1769 and named after the Cornish town and birthplace of Sir William Trelawny, the Governor of Jamaica.
Mike Reynolds, Falmouth's Port Operations Director in Cornwall said: "Falmouth [Jamaica] has been able to develop a marvellous cruise destination, which can accommodate the world's largest cruise ships and is now paying dividends in terms of the wider local economy.
"This is something we would love to be able to emulate, albeit on a much smaller scale, in Falmouth, Cornwall, and who knows, perhaps one day we will be promoting a cruise from Falmouth to Falmouth."
As part of his Jubilee tour of the Commonwealth nations of Belize, Jamaica and the Bahamas, Prince Harry visited Jamaica's port.
William Tatham, from the Port of Jamaica Falmouth said: "We were delighted to show Prince Harry around and he was keen to learn about the economic impact the development has had.
"I was also able to tell him about the sistering of the ports, which he thought was a good idea."