Culdrose pilot Martin Stoner retires after 10,000 hours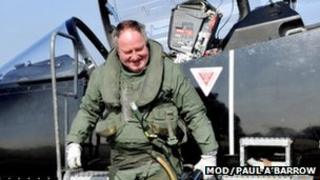 A pilot based at a Royal Navy base in Cornwall has retired after having flown 10,000 hours.
Former Red Arrow Martin "Stumpy" Stoner, 64, from near Truro, made his last fast-jet flight on a Hawk jet at Royal Naval Air Station Culdrose.
During his career, he served in Germany, Turkey and Iraq; flying Lightning, Tornado, Hunter, and Folland Gnat jets, the base said.
He said he was "looking forward to being retired".
Mr Stoner joined the RAF in 1966, retiring as a Wing Commander.
He then joined the Fleet Requirements Air Direction Unit (FRADU) at Culdrose in 1999.
The navy unit operates 14 Hawk jets from the base, providing airborne threat simulations against ships undergoing sea training.
The jets simulate enemy fighters and missiles, giving ships' crews the opportunities to experience and train for defence against airborne attack.
His last flight was an aircraft interception exercise, the base said.