Rescue operations celebrated in Falmouth exhibition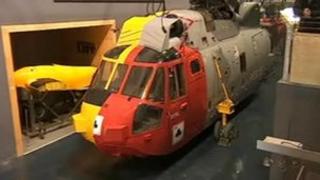 Search and rescue operations are being celebrated in a new exhibition which has opened at a museum in Cornwall.
The exhibition, at Falmouth's National Maritime Museum Cornwall, looks at the personnel and equipment involved in national and international rescues.
Displays include details of the wreck of the Suevic in 1907, the 1981 Penlee disaster and the 2004 Boscastle floods.
A 1970 Sea King helicopter is also part of the exhibition, which is to run until 1 February 2014.
Organisations highlighted include the RNLI, the Royal Navy, the RAF and the Maritime and Coastguard Agency.
Museum director Jonathan Griffin said: "Prior to this exhibition, I hadn't fully appreciated the combined work of all the organisations and services around our coast.
"Their teamwork, dedication and commitment to each other and the public has to be admired."
The Ministry of Defence has lent the museum the Sea King as it is no longer in service.
The aircraft, which is sporting the liveries of both RAF and navy search aircraft, served in the Falklands and at Cornwall's RNAS Culdrose base.