Bloodhound SSC replica inspires Cornwall College students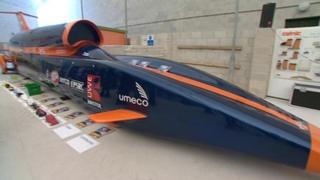 A replica of the car which a British team hopes will break the world land speed record has been shown to students at Cornwall College.
The full-size 12m (39ft) version of Bloodhound SSC was brought to the college as part ofNational Science and Engineering Week.
Bloodhound SSC (Super Sonic Car) aims to beat the current record of 763mph.
A number of students said the car had inspired them to consider an engineering career.
Bloodhound engineer Dan Johns, from Devon, said: "There is a real problem recruiting engineers generally in this country.
"I think we need to get engineering, science, technology and maths recognised as a career.
"If you can show children something that is really exciting at the end of that then you get them interested much earlier."
Jade Edwards, 13, said: "I might start looking into it. I thought engineering was really boring before but I really like it now."
Bloodhound SSC, which is powered by a Eurofighter jet engine and a rocket producing 135,000 horsepower, is due to be tested next year for the record attempt in South Africa.
Mr Johns said: "We're a lot more confident now we have found an aerodynamic solution to balance the download and the lift.
"We had to design the right package to make sure the car was stable throughout the whole speed range, so we have a car that doesn't lift and doesn't dive into the ground.
"We are really excited."