Penzance Harbour: Scaled-back £8m plans are 'last chance'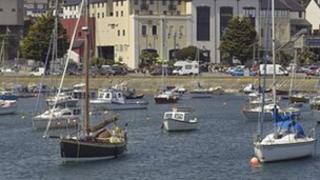 Scaled-back plans to redevelop Penzance Harbour and provide a link to the Isles of Scilly have gone on display.
The plans have been reduced from a £65m scheme, which was criticised in 2011 as "poor value for money", to £8m.
The new plans include a chill store, a passenger terminus and a covered walkway to the Scillonian.
Penzance Town Council said it would apply for government and European funding but that it was probably the "last chance" for the project.
Penzance Town Council's project adviser Tony Woodhams, said: "After all the money that's been expended on previous schemes I would say probably you're in the last chance now.
"Part of the package is operationally we've taken the opportunity to dredge the approaches so you've got an enhanced port that would generate more revenue for Cornwall Council. "
Dick Cliffe, chairman of Penzance Chamber of Commerce, said: "I'm quite impressed with it.
"Inevitably it's a compromise because the harbour doesn't have a lot of space, but I think with this one there is a lot of public support for it."
In 2011 the government announced it would not help finance a new £44m ferry terminal as part of a wider £65m project.
Nearly £4m was spent on the failed bid with Cornwall Council spending £2.53m and the government and Europe contributing £1.31m.
The plans were dropped after the government refused to contribute a further £35m.