Trenow rare-breed cow attack: Police seize second dog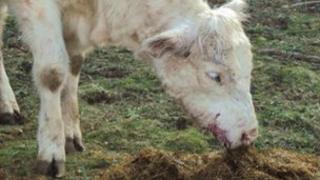 A dog that escaped after attacking and injuring three rare-breed cows near Penzance in Cornwall two weeks ago has been seized by police.
Two dogs were involved in the attack on the Whitebred Shorthorns at Trenow Farm, Perranuthnoe, on 20 March.
Farmer Nick Wall shot and killed one of the dogs, but the other escaped with its owner.
Devon and Cornwall Police said experts were currently assessing the cross-bred dog to determine how dangerous it is.
Pendeen Guinevere - the first of the endangered Whitebred Shorthorns to be born in Cornwall - was the most seriously injured in the attack and needed 40 stitches to her head and face.
But vets who examined the heifer this week told owner Gerald Babcock that some of the damaged facial tissue had not healed and would have to be surgically removed.
With less than 150 breeding females in the world, Whitebred Shorthorns are on the Rare Breeds Survival Trust's critical list.
Karen Hogan, who keeps the breed and runs a micro dairy at Trenow, was looking after Mr Babcock's cattle when the dogs attacked.
She said they were "dangerous and out of control" and because the dog that escaped had now tasted blood it posed a risk, so should be destroyed.
"It's an accident waiting to happen if this dog isn't put down," Ms Hogan said.
Insp Jean Phillips, from Devon and Cornwall Police, said the fate of the dog, which is currently in police custody at a specialist kennel, would be decided by the court alone.
Within his rights
The dog was seized by police last week after a warrant was issued by Truro Magistrates' Court under the Dangerous Dogs Act to determine whether it is a prohibited breed, or a pit-bull type which has restrictions against it.
It will also be assessed by experts on how dangerous it is.
The inspector said once the court had the information it needed, it had a range of options which could include issuing a destruction order or releasing the dog, with conditions imposed which could be having it neutered, muzzled or excluded it from specific locations.
"It's not actually as black and white as perhaps some people think or would like it to be," she said.
Police have already said no action would be taken against the farmer who shot one of the dogs involved in the attack on the cows, saying he was within his rights to do so.