Son saved by father in Cornwall fishing accident out of hospital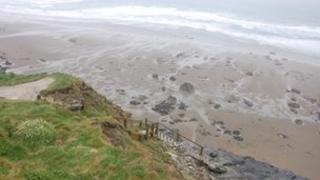 A man who was rescued from the sea after a fishing accident in Cornwall which led to the death of his father has been released from hospital.
The 27-year-old and his 60-year-old father were swept into the sea off Tregardock, near Delabole, on Sunday.
The father tried to save his son, but lost his life in the attempt. The Port Isaac lifeboat was dispatched and brought them ashore.
The dead man has yet to be officially identified, the coroner's office said.
Police said they were alerted by coastguards at 08:40 BST on Sunday.
The men - who are from Cornwall but were visiting family in the area where the accident happened - had been fishing at the beach when a wave swept the younger man into the sea as they were leaving.
The father threw him a lifebelt. As he was pulling his son to safety, another wave washed the older man into the water.
Both were in the sea for about 30 minutes before being recovered by the lifeboat, but the father was later declared dead.
His son was taken to the Royal Cornwall Hospital, Truro.