Norovirus outbreak at Royal Cornwall Hospital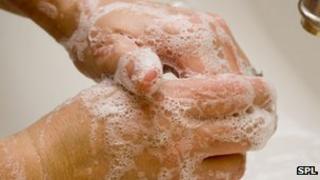 A vomiting virus is affecting parts of the Royal Cornwall Hospital in Truro.
The norovirus outbreak has prompted the hospital to ask people not to visit patients if they, or anyone they know, have shown symptoms of the bug.
In most cases, people usually recover fully within a few days and long term effects are very uncommon.
Louise Dickinson, joint director for infection prevention and control, said it was important to react quickly to reduce the spread of the virus.
Holiday period
"We hope visitors will support our request for them to stay away unless there are exceptional circumstances," Ms Dickinson said.
"Although the increase in norovirus is later in the year than we would normally expect, it's not unusual to see higher levels in the community after a holiday period when people tend to do more socialising and travelling around."
Outpatient clinics and planned surgeries are going ahead.
Norovirus symptoms include a sudden onset of nausea, followed by vomiting and diarrhoea and the bug is highly contagious.
Hand gels do not kill the virus, so thorough hand washing with soap and water is recommended.