Pathway to be created from Luxulyan Valley tramway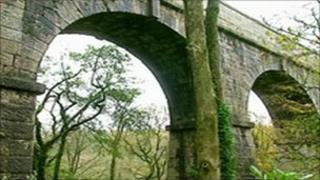 A new pathway is being created from a former Victorian tramway in a Cornish valley.
The work in Luxulyan Valley, a World Heritage Site, will restore Carmears Tramway to create a path between the Treffry Viaduct and the Wheelpit.
Repair work will also be carried out to reduce the risk of flooding.
The work is expected to be completed by June with diversions in place for visitors while sections of path are closed.
David Attwell, from Cornwall Council, said: "This work will provide a real insight into its construction, a greater understanding of the tramway's original purpose, and of course a better walking environment for all visitors to the valley."