Heartlands 'cultural playground' opens in Cornwall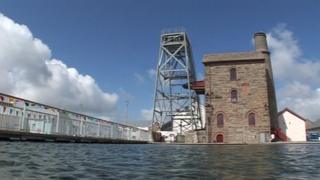 A "cultural playground" in one of Cornwall's most impoverished areas has been officially opened.
Heartlands is a £35m visitor attraction created at the Robinson's Shaft of the former South Crofty mine in Pool.
Set in 19 acres on industrial waste land and with 400 years of mining history, Heartlands forms part of Cornwall's World Heritage Site.
The project received £22m from the Big Lottery Fund. Cornwall Council and the European Union also provided funding.
It is the biggest grant the Big Lottery Fund has given to a single project in England.
Lottery spokeswoman Anna Southall said it was because Heartlands embodied the Big Lottery Fund's commitment to supporting communities and improving and enriching people's lives.
"It's amazing to see the transformation of this formerly derelict site, and how the Heartlands project has come to life from the original plans," she said.
As well as a state-of-the-art exhibition space, Heartlands has craft studios, botanical gardens representing countries Cornishmen mined in and the biggest adventure playground in Cornwall.
Malcolm Moyle, chairman of the Heartlands Trust charity, said the opening of the project was "a dream come true" after six years of hard work and planning.
The trust will run the project as a social enterprise for the benefit of Cornwall and, in particular, the Camborne, Pool and Redruth regeneration area.
"It's an amazing project that's going to transform the quality of life for local people and stimulate the economy in the wider area as well," Heartlands chief executive Vicky Martin told BBC News.
Heart-shaped pasties will be on sale in the Heartlands cafe - sited in a Grade II* former carpentry shed.