Apology for missed Cornwall waste helpline calls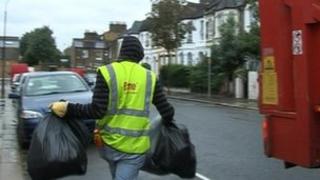 Waste collection chiefs have apologised to callers who have been unable to get through on a helpline for missed rubbish collections in Cornwall.
Householders have been phoning Cornwall Council with more than 1,000 calls a day about collection problems.
The council said it had increased staff numbers to deal with the amount of calls it expected, but actual call levels had been greater than that.
More than 250,000 households have been affected by the changes to collections.
Call centre frustration
Cory Environmental Services took over waste collections on 1 April.
Some homes have reported waste not being collected since the changes were introduced.
The Conservative-Independent led unitary authority said it had received 7,266 reports of missed collections between 10 and 16 April.
The council said it was working with Cory to identify where the problems were occurring.
Council cabinet member Julian German apologised to people who had had "frustration getting through to the call centre".
He said: "We and Cory are working extremely hard to rectify problems".
Councillor German said that extra phone staff had originally been brought in for an "expected amount of calls" but that the actual volume of calls turned out to be "much higher than anticipated".
He added: "We are not going to be pursuing Cory for costs [of extra council staffing] at this stage.
"We're working together to get the service right for the people of Cornwall."
In terms of collections, Cory managing director Nigel Carr, said: "We're putting additional resources in where there are issues, in terms of vehicles and operatives, and we're reacting to issues as soon as we can."
The council's eight-year contract with Cory, worth about £125m, is part of work to standardise collections across the county's former six district council areas.
Households can report missed collections on the council's website.