Cornish-only shop Taste Cornwall closes in Liskeard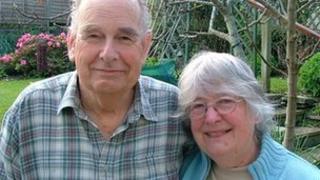 A shop which sold only Cornish produce has closed after its profits fell by nearly 50% in January.
Taste Cornwall, in Liskeard, was run by the Cornish Guild of Smallholders (CGOS), an organisation set up to support local traders.
The shop sold products from 70 producers but currently owes 20 trade creditors a total of £12,000.
Joy Cheeseman, director and chairman of CGOS, said she was "absolutely devastated".
'Desperate' to sell
Mrs Cheeseman said the shop's turnover in January had been down almost 50% on the previous January.
She said, as yet, none of the creditors had demanded their money, but if they did CGOS could be forced into liquidation.
Mrs Cheeseman said: "I feel absolutely devastated, not just for myself but for the 70 producers that we had in the shop and the new ones that were coming along."
Her husband Mr Cheeseman, also a director of CGOS, said: "I feel very disappointed that we've put all this work into it over the years and it's come to this.
"If we could even sell the company Taste Cornwall Limited with its registered trademarks we could pay back our creditors and this is what we really, desperately, want to do."
The Cheesemans founded the guild 25 years ago and had hoped the shop in Liskeard, which opened in 2008, would be the first in a chain, with further plans to create a smallholders centre.