National Trust opens Welcome to West Cornwall centre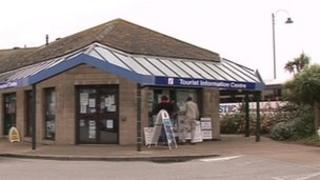 A new visitor centre for tourists has been officially opened in Cornwall.
The National Trust's Welcome to West Cornwall centre, in Penzance, is on the site of the former Tourist Information Centre, which closed last year.
Having a presence in the town centre would help to promote the area as a tourist destination, the trust said.
Developed with Penzance and District Tourism Association, the centre is supported by Cornwall Council, Penzance Town Council and Visit Cornwall.
The National Trust said the Tourist Information Centre's closure in May coincided with the trust looking for a way to raise its profile in the area and get involved in local communities.
'Alienation from nature'
It said the centre was a "groundbreaking" project because it would not simply focus on places owned by the trust, but would promote the best of what the area has to offer.
Spokesman Ian Marsh said it was a new but vital area for the trust to be involved in.
"We believe that some of Britain's children are suffering from nature deficit disorder - in other words alienation from nature.
"Children and adults should be encouraged to play outside and reconnect with the outdoors, and where best to do that than in West Cornwall which boasts some of the most inspirational and exhilarating countryside there is."
Malcolm Bell, head of tourism at Visit Cornwall said budgetary restraints forced the closure of the information centre last year.
He added it was a "double pleasure" to see it reopening to meet the needs of visitors and local businesses.