Cornwall cattle found mutilated and killed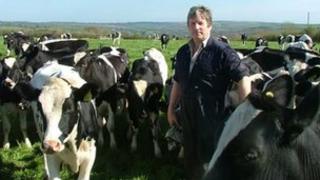 Three bullocks have been killed on a farm in a series of brutal attacks - with two apparently hit with a hammer and one having its tongue cut off.
Farmer Tony Weaver, from St Tudy in Cornwall, is offering a £2,000 reward in an attempt to catch the attackers.
The bullocks have been attacked at Penhale farm over the past three weeks.
Post mortems showed two animals had been attacked with a blunt instrument and Mr Weaver said he thought one of them may have had a bullet wound.
Police are investigating the attacks.
Mr Weaver, 55, said the first animal was found dead in a field with a "bullet wound or damage to its skull just above its eye".
Ten days later another animal was found with seriously damaged shoulder and died in the night.
A few days later a third animal was attacked and its tongue had been cut out.
'Twisted mind'
Mr Weaver said: "It's very upsetting. We have spent a long time rearing this young stock.
"They are very friendly cattle, almost like pets."
He has installed CCTV cameras on the farm and is offering the £2,000 reward.
He blamed "somebody with a twisted distorted mind who callously has no care for animal life".
He said: "It is some mindless, brain dead person.
"I am unsure whether it's a vendetta or why they would pick on our animals.
"Or whether they have just found a quiet bunch of animals and it's appealed to them in some sick way."
PC Mike Ellis of Bodmin Police said: "Over the past three weeks, three young bullocks have been found deceased in suspicious circumstances on a farm in the St Tudy area and we're seeking any witnesses or information as to whom may be responsible."