Falmouth Beach Hotel 'to be rebuilt' after fire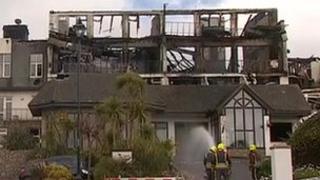 A Cornwall hotel wrecked by fire will be rebuilt "bigger and better", the owners hope.
Flames ripped through the four-storey 120-bed Falmouth Beach Hotel on 30 April but no-one was injured.
Owners the Evans family said they had been "inundated with heart-warming messages of support and good wishes".
The family said in a statement that they wanted to thank all their supporters "at what has been a difficult time".
They said they planned to rebuild the hotel, "with the aspiration of being bigger and better than ever before".
The hotel, which opened in 1984, became part of the Best Western group of hotels in 2000.
Demolition workers have moved in to take down the remaining structure of the building.
No official cause of the fire has been revealed but investigators have said the fire could be linked to a tar heater being used to repair a hotel balcony.