Community worker Claire Arymar to tour St Austell in bus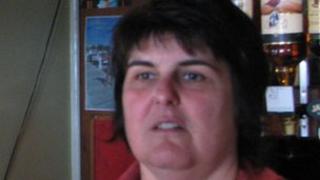 A community worker praised for her work in one of Cornwall's most deprived housing estates has been asked to help another area of the county.
As neighbourhood manager on the Pengegon estate in Camborne, Claire Arymar has helped with projects to reduce crime and anti-social behaviour.
Now she has been given a converted children's play bus to tour deprived areas of St Austell one day a week.
Cornwall Council said 19% (16,650) of its under-16 residents live in poverty.
A report compiled by the council last year found a correlation between poverty and other issues such as job opportunities, housing and health, which contribute to social deprivation.
The government's definition of poverty is a family with two children living on less than £300 a week.
Ms Arymar's neighbourhood office in Camborne is in a house in the middle of the Pengegon estate, but finding a suitable base in St Austell has been more problematic.
"In St Austell, the areas of deprivation are very spread out and not all in one place like Pengegon," she told BBC News.
"It is a problem, but we've got a bus so we can go to people."
The council worker said her job was to help develop good working relationships between residents and multi-agency groups, such as local health authorities, Devon and Cornwall Police and Cornwall Council.
She has helped residents apply for funding to benefit the local area, as well as organising residents' associations and community events.
Drink and drugs
"My job is about empowering and encouraging local residents to take ownership for the area, and help them to make their community better, safer and happier place to live," she said.
Damien Richards, a community health worker who will be working with Ms Arymar, said one of the main focuses will be to set up health advice seminars for people living in the Gover Valley area of St Austell.
With higher than average levels of childhood obesity and higher levels of young people who smoke, he said the area is among the most deprived in England.
Malcolm Putko, who runs the Western Inn in the Gover Valley, has welcomed the initiative and said he would be happy to work with Ms Arymar to continue the local town council's work of dealing with drink and drug-related issues.
Ms Arymar said although the bus will give them access to the areas they need to target, she accepts it will be a challenge.
"We'll have to make the best of what we've got... it's do-able even though it's not as convenient as it is in Pengegon," she added.