Cornwall's RNAS Culdrose in Operation Dynamic Mongoose in Norway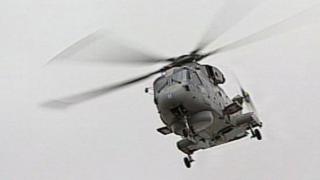 Staff from RNAS Culdrose in Cornwall will be hunting for submarines as part of an exercise with the Norwegian Navy.
Operation Dynamic Mongoose will involve more than 50 personnel and two helicopters from RNAS Culdrose.
An air station spokesman said they will be pursuing submarines using sonar and by listening to their movements.
Dynamic Mongoose is a key part of the build up to Operation Cougar, which is their primary deployment later in 2012.
Chris Stock, Commanding Officer of 814 Naval Air Squadron, said: "We are relishing the chance to take part in some of the highest calibre submarine hunting available.
"Exercise Dynamic Mongoose provides a fantastic opportunity for 814 to embrace the Norwegian culture and regenerate its maritime capabilities in anti-submarine warfare."
The personnel will be operating from Sola Airbase, in Stavanger, in south-western Norway.