Serco denies Cornwall GP out-of-hours service 'unsafe'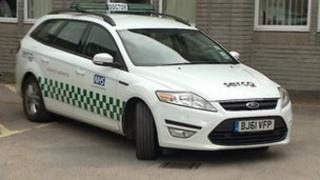 Serco, the company that operates Cornwall's out-of-hours GP service, has insisted that allegations about it being unsafe are unfounded.
A whistle blower has claimed doctors are stretched and Serco's response times have been amended.
A Care Quality Commission (CQC) inspection took place last month but its findings will not be known for at least three weeks.
Serco is to meet St Ives MP Andrew George to discuss concerns he raised.
The Liberal Democrat MP said he had also been told Serco was using non-clinical staff to answer calls.
'Demoralised' staff
The company has provided an out-of-hours GP service in Cornwall since 2006 and has a team of more than 180 doctors, 50 other clinicians and about 140 support staff.
Serco said it was fully committed to providing the best possible care for patients and insisted the allegations were untrue and its service was safe.
A statement said an independent audit commissioned by the Cornwall and Isles of Scilly Primary Care Trust (PCT) found that there was "no substance" to any allegations of altering figures or manipulating data.
The PCT confirmed it had commissioned an independent audit following concerns about Serco manipulating response times.
"This audit found no evidence of data being altered and in fact showed that the systems used by Serco would not allow data to be altered after the fact," a statement from the trust said.
"Response times are measured by an automated system that cannot be tampered with. This system measures response times from the moment the call is received."
Paul Forden, managing director of Serco's clinical service, said claims made in a national newspaper that queues of up to 90 patients were allowed to build up at its telephone helpline and that figures were then adjusted in order to meet targets were untrue.
"It's impossible to restart the clock on the system, so it's absolutely refuted," he told BBC News.
Mr Forden, however, accepted that staff morale was low.
"Our staff are very demoralised and they do a fantastic job for the people of Cornwall," he said.
"It's very difficult to run an out-of-hours service within a rural county and yet the National Primary Care Foundation has rated us as one of the best services in the country."
Mr Forden said he had written to Mr George requesting a meeting to discuss all his concerns.