Cornish joke on Have I Got News For You sparks MP anger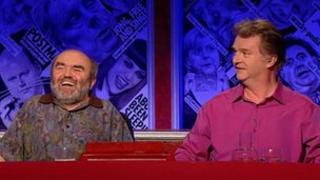 An MP has complained to the BBC and the Equalities and Human Rights Commission (EHRC) over a joke about the Cornish on Have I Got News For You.
The joke was made on the latest edition of the TV satire show by panellist Andy Hamilton in response to a question.
Dan Rogerson, Liberal Democrat MP for North Cornwall, said the comments showed that "Cornish are discriminated against as a group".
The show's producers said the comment was "clearly tongue in cheek".
In the show, guest host William Shatner asked a question about the Olympic torch relay: "What caused confusion in Truro?"
Panellist Andy Hamilton responded: "Well, they're Cornish aren't they? They'll always be confused in Truro."
Mr Rogerson said: "Of course I like a joke as much as the next person, but on this occasion I can't help but feel that these comments wouldn't be tolerated if they were aimed at the Welsh, Scottish or indeed any other nationality or cultural minority.
"I feel that it is comments like this which show that the Cornish are discriminated against as a group, and that they should be recognised as a distinct cultural minority.
"This would give protections to make sure the Cornish are not stopped from maintaining and celebrating our distinct identity."
'Not offensive'
He added: "I don't want kids in Cornwall to see this kind of thing and and think, 'Is there something about me, maybe I'm not as bright as all the others, maybe I haven't got the chance to be as successful as everybody else.'"
BBC Radio Cornwall listener Steve Dawe, 47, from Callington, said: "It was not offensive, it was very funny.
"People seem to be having a major sense of humour bypass. Everyone was being picked on, MPs, bankers, the Welsh, Scots. The whole programme was having a bash at everyone."
Mr Rogerson's action received a number of responses on the BBC Cornwall Facebook page including Ray Worden who wrote: "Dan Rogerson is a very good MP, but for goodness sake, what a huge storm in a very tiny teacup."