Mary Portas High Streets: Liskeard shop owners 'greedy'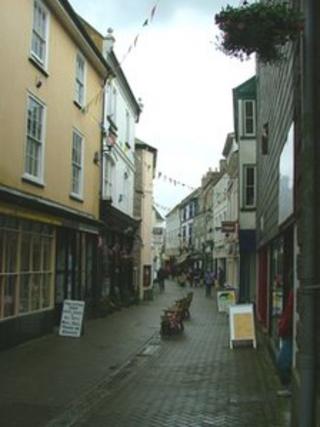 The owners of empty shops in Liskeard have been accused of trying to cash in on the town's £100,000 facelift.
The Cornish town was one of 12 in England chosen for government cash to rejuvenate its shopping area with the help of retail guru Mary Portas.
Since the announcement last month, two owners have put up the asking price of their properties.
Liskeard Mayor Tony Powell described the hike as greedy and insensitive, but inevitable.
One owner, who had an empty property on the market for £275,000, has instructed her estate agent to increase the asking price to £300,000.
"It seems like the market's being tested, which is inevitable, but I can't see any likelihood of any movement," the mayor told BBC News.
"The increases just seem to me to be an act of gratuitous greed and an act of insensitivity."
He said retail real estate agents and their clients should be working together with the Love Liskeard Team that put together the successful bid.
Chartered surveyor Miller Commercial, who is acting for one of the shop owners who have raised the asking price, said it was as a direct result of the Mary Portas project.
Spokesman Rob Redgrave said: "This particular property has been on the market for about two-and-a-half years, maybe even longer.
"I don't think it will work, but that's what they want to do... and the problem is people tend to follow suit and if one or two put the price up, everyone will think it's a good idea."
Mr Redgrave said client confidentiality meant he could not reveal the owner's identity.
'Incredibly disappointing'
The agent handling the sale of the second property is not known.
Allison Livingstone from Love Liskeard said she was saddened and disappointed by the shop owners' actions which went against everything the town wanted to achieve.
"It's completely out of step with the Portas philosophy and Love Liskeard's own objectives," she said.
"It seems shortsighted and it's incredibly disappointing."