Public toilets threatened by cuts 'vital' to St Ives tourism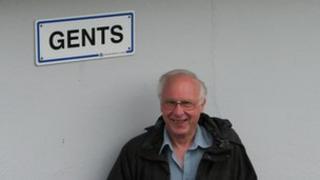 Public toilets in the Cornish seaside town of St Ives, which are under threat because of budget cuts, must be kept open, its mayor has said.
St Ives Town Council said reduced funding from Cornwall Council would only be enough to keep half its 12 conveniences running.
Ron Tulley, the town's mayor, said the toilets were vital so alternative ways had to be found to pay for them.
Cornwall Council said less government funding had "forced" it to make cuts.
'Tourism dependent'
It currently costs about £160,000 a year to keep the public toilets in St Ives clean and maintained, but from the end of 2012 the town council will only receive £75,000 for their upkeep.
"During the summer there are queues at the existing loos, so the thought that any of them could shut is unthinkable," Mr Tulley told BBC News.
"St Ives is totally dependent on tourism - we have got to provide facilities for people."
He said the town council would be considering various options to keep the toilets in the town open.
"Essentially some of them are near the beaches, so beach proprietors may be interested in managing them.
"Some of them could possibly be charged for - maybe pubs and cafes can make their loos available to the public if they received a payment," he said.
"We're going to look at all options."
A spokesperson for Cornwall Council said: "Unfortunately, the financial position we have been put in by central Government means we have been forced to cut funding to non-statutory services such as public toilets.
"We recognise that the provision of toilets is important to communities in Cornwall and want to do what we can to minimise the impact of this reduced budget."