iPads 'will help raise Penzance school results'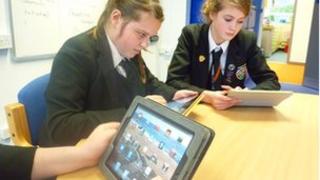 A Cornish school which handed out iPads to more than 900 students and staff is predicting a rise in exam performances as a result.
Mounts Bay Academy in Penzance said last November that it was spending about £300,000 on the computers over three years.
Some critics questioned whether it would raise standards.
The school said it was hoping for a 10% improvement in exam results this year, partly due to the iPads.
It also said the school was saving money on paper.
Head teacher Sara Davey said: "Our predictions are that we might get a 10% increase this year in the headline figure.
"It's not just because of the iPads because we have a lovely year 11 who are working very hard and staff who are even more focused than they've every been.
"However I think the iPads are an extra thing that has helped us improve standards."