Firefighters tackle Looe laundry fire at elderly homes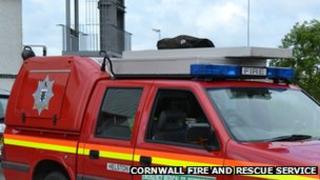 A fire has broken out at a residential complex for elderly people in Cornwall.
The alarm was raised at about 15:30 BST and crews from across Cornwall were sent to the fire in Barbican Road, Looe.
Cornwall Fire and Rescue Service said crews contained the blaze to a launderette at the single-storey complex of 11 self-contained flats.
Residents were moved to safety and no-one was injured. An investigation into the blaze has begun.