Tregonhawke lifeguards in beach hut row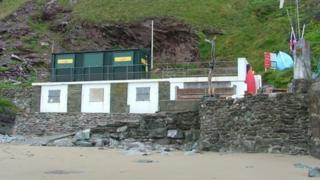 RNLI lifeguards at a Cornwall beach have been locked out of their hut in an argument over its lease.
Cornwall Council surrendered the lease to the Tregonhawke chalet owners association in 2011, hoping it would lease the building to the RNLI.
But the RNLI said it could not accept demands from the association including "liability for people in and around the building".
The association said the RNLI was to blame for refusing to take the lease.
'Costly risk'
It said in a statement: "The RNLI unreasonably refuses to take over this lease so is therefore wholly responsible for the reduced lifeguard cover on the beach.
"Cornwall Council also refuses to solve the problem by agreeing to renew its lease."
Cornwall Council said the beach was privately owned and it hoped the RNLI and the owners association could reach an agreement.
The RNLI said in a statement: "As a charity we cannot take on liability for people in and around the building at Tregonhawke as requested by the chalet owners association.
"Taking on such a potentially costly risk would not be fair on our supporters who donate so generously."
Surfer Mike McCann said: "It seems strange to me that they didn't discuss it before the lease came up for renewal.
"There should be lifeguard cover down there as soon as possible for people's safety."