Fire-hit Falmouth Beach Hotel to be demolished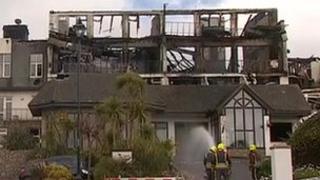 Work to demolish a Cornish hotel that was destroyed by fire has started.
Flames ripped through the four-storey 120-bed Falmouth Beach Hotel on 30 April. No-one was injured.
It is thought the demolition work will take about six weeks to complete. The building has been sealed off since the fire.
A meeting will also be held in the town later to enable residents to comment on plans for a new hotel on the site.
Hotel manager Ryan Orhly said at the time firefighters had told him within 10 minutes of the fire there was "nothing they could do to save the main bulk of the hotel".
'Bigger and better'
"A fire is something, as the manager of a hotel, you fear everyday of your life," he said.
After the fire took place, structural engineers assessed to see if there was "any element of the hotel that could be saved".
"Unfortunately due to the nature of how big the fire was, pretty much all of it is going to have to be taken down," Mr Orhly added.
The owners of the hotel, the Evans family, said they planned to rebuild it "with the aspiration of being bigger and better than ever before".
The hotel, which opened in 1984, became part of the Best Western group of hotels in 2000.
No official cause of the fire has yet been revealed, but investigators have said it could have been linked to a tar heater being used to repair a hotel balcony.