Rare maerl crab found in Cornwall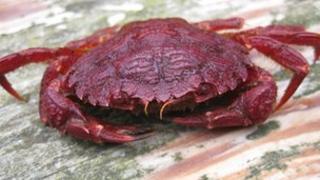 A bright red maerl crab, one of only a handful discovered in the UK in the last 100 years, has been picked up in Cornish waters.
The crab was accidentally caught in the pots of Mylor fishermen, Cameron and Ivor Henry while they were out at sea off St Mawes.
The last crustacean of its kind was also discovered in Cornwall in 2009 by fisherman Tim Bailey.
That was only the third to be recorded in more than a century.
Nocturnal life
The species, Liocarcinus corrugatus, also known as the wrinkled swimmer crab, grows to a maximum of six centimetres (2.3inches).
It is reddish-brown in colour and leads a nocturnal lifestyle.
A spokesperson for the Blue Reef aquarium in Newquay, where the crab is currently staying, said the species can be highly aggressive.
It has been known to attack divers with its sharp claws.
The maerl crab gets its common name as it is often found among maerl - a type of calcified red seaweed.
Jenni Smith, from the aquarium, said: "Its red colouration is to help it blend in with its underwater habitat to escape the unwanted attentions of would-be predators."