Redruth man jailed for breaking five-month-old son's ribs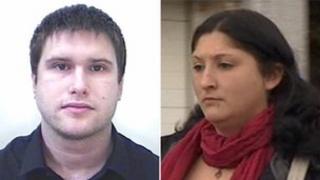 A father has been jailed for five years for causing injuries to his baby son that resembled those of a crash victim.
Dillan Ninnis suffered 18 fractures to his ribs and bruising to his head and body by the time he was five months old, Truro Crown Court heard.
Anthony Craddock, 22, from Illogan Highway, Redruth, Cornwall, was earlier convicted of two counts of child cruelty by wilful assault.
The judge, Mr Justice Butterfield, called it a "terrible case".
Supervised visits
During his trial, the court was told Craddock was unable to control his violent temper and was known to punch walls.
Craddock admitted losing his temper but claimed he loved his son and would never hurt a child.
The court heard signs of cruelty were spotted by a health visitor and the injuries to the ribs resembled those caused by a very high speed road accident.
Dillan's mother, Jade Ninnis, 20, of Green Lane, Redruth, admitted wilful neglect and was given a 12-month sentence, suspended for two years.
Mr Justice Butterfield said he only suspended her sentence because she had pleaded guilty and had testified against Craddock.
Dillan has been placed with a foster family and his mother is allowed supervised visits twice a week.
Mr Justice Butterfield said it was possible the relationship between the mother and son "can be mended".
'Abhorrent case'
After the sentencing, Det Sgt Michael Rodway, of Devon and Cornwall Police, said all such cases had an incredible impact on people.
"But this case, even for professionals, was an abhorrent case," he said.
Children's charity the NSPCC said: "The injuries inflicted on baby Dillan starkly highlight just how vulnerable children are in the first few years of their lives.
"Babies are eight times more likely to be killed than any other age group in childhood; and factors such as domestic violence, mental health problems and drink and drug dependencies among parents are known to be important risk factors for abuse and neglect.
"While it is impossible for such young children to speak out, neighbours, relatives and family friends can often be the eyes and ears which protect a child."