More basking sharks spotted off Cornwall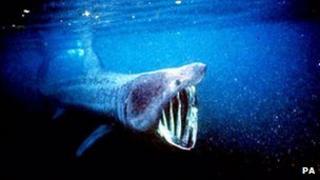 Basking sharks are back in higher numbers than last summer, according to the Cornwall Wildlife Trust.
The trust's Seaquest Basking Shark Project recorded 28 sightings in June alone.
The project trains the public to look out for basking sharks in day-long surveys from 1 June to 31 August.
A spokeswoman for the trust said the project had got off to a "flying start".
Recruitment drive
The annual project takes place at a watch point near Land's End. More than 100 volunteers have been trained to take part in this year's watch.
The trust said it was looking to recruit more shark fans to take part in the survey and secure valuable data to help conserve the endangered species.
Jane Alcock, Seaquest Basking Shark Project co-ordinator for Cornwall Wildlife Trust, said: "Volunteers have done a great job of covering pretty much all the daylight hours of June - gales and storms permitting.
"It's a fantastic way to learn more about our marine wildlife, meet like-minded people and enjoy experiencing real scientific field work."
Spring and summer is traditionally when basking shark numbers are at their highest, due to the seasonal plankton bloom on which the sharks feed.
The survey site - Hella Point - is one of the best places in the UK to spot the animals, which cruise just below the surface of the water when feeding.