Family sets up Jack Mylam Foundation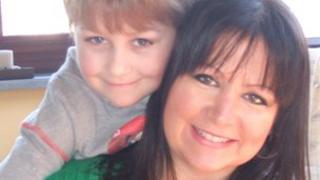 When Jack Mylam died three years ago, his mother Samantha Wearne knew she wanted to do something to preserve his memory.
Jack, aged nine, died after being diagnosed with an incurable brain stem tumour known as childhood diffuse pontine glioma (DIPG).
Now Ms Wearne has set up the Jack Mylam Foundation to raise awareness and funds for medical research.
There are about 40 new cases a year of DIPG, a high grade or malignant tumour for which there is currently no cure.
Jack Mylam, from Truro, was an active boy who enjoyed swimming, football and martial arts, but in August 2008 he began to suffer from weight loss and headaches.
Ms Wearne said: "He was getting colds, sore throats and headaches. I took him to the GP's on several occasions and they weren't too sure what was wrong with him."
'He just coped'
Jack then started to get double-vision, nausea and dizziness and when his mother again took him to the doctor, the GP contacted the Royal Cornwall Hospital at Treliske.
"We took him there thinking they would just send him off saying it was a virus," she said. "But within a few minutes of shining a light in his eye they were calling for scans.
"At 9pm in the evening, the consultant paediatrician called us into the office and broke the devastating news that Jack had a brain stem tumour."
Jack's parents took it in turns to sleep in his bedroom every night after the diagnosis. They were concerned that he would lose his sight as a result of the tumour.
"We would sleep with him at night, holding his little hand, and telling him we loved him," said Ms Wearne.
"He just coped with it. He knew he was different from his friends, but Jack never complained.
Rare cancer
"The average life span of a child diagnosed with diffuse pontine glioma is three to 18 months. Jack fought his battle for 11 months and he died in my arms.
"It's nearly three years since Jack died, but it seems like only yesterday. I will never get over losing Jack.
"My life revolved around Jack, taking him to school and his activities. It just left a huge hole in my world."
Three years after his death, the family has set up the Jack Mylam Foundation.
Ms Wearne said: "I have set up the foundation with my mum to raise awareness of Jack's cancer.
"Our goal is to raise £70,000 for the Institute of Cancer Research who have a small team of scientists who are doing research into the type of rare cancer that Jack had.
"If it means we can find a cure then it will mean no other family have to endure the loss that Jack's family has."
The family is now planning several fundraising events, including a Mad Hatters Charity Night for the foundation on 3 August.