Cornish choughs returned from Republic of Ireland: Study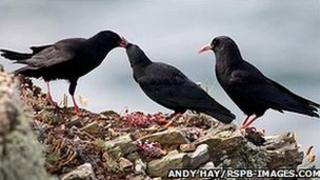 The Cornish chough population, which returned to the county in 2001, came from the Republic of Ireland, a university study suggests.
Researchers at Aberdeen University took DNA samples from feathers to get a genetic fingerprint of the birds.
After being absent from Cornwall for 54 years, the species returned 11 years ago.
Dr Jane Reid said she was surprised by the finding as usually the chough was a "very, very sedentary" bird.
Feathers were taken from chough populations across western Europe, which allowed researchers to discover the Cornish birds' "true origins".
It was speculated that the birds had flown from "the closest launch-off points" of south Wales or Brittany, France.
'Very little movement'
"Genetic evidence now suggests the new Cornish ones came from some point along the coast of southern Ireland," Dr Reid said.
"Our study also showed that all the populations we sampled right though from Scotland, Wales, Brittany, Ireland, are really quite genetically distinct from each other, which suggests that typically there is very little movement between them."
Species protection warden for the Cornish Chough Project Katherine Lee, who runs a 24-hour protection programme for the birds, said the chough's return had "kept volunteers guessing for about 11 years".
Ms Lee said the return of the chough was of "massive importance" to Cornwall.
She said the year the birds had returned coincided with the foot-and-mouth disease crisis and claims that year the restrictions on public footpaths could have encouraged them to settle.
Choughs are a member of the crow family with a red beak and legs and an excitable high-pitched 'chi-ow' call from which it gets its name.
The bird is included in Cornwall's coat of arms alongside the miner and the fisherman, reflecting the bird's importance in Cornish culture.