Fire that killed Ben Philpotts in Newquay unforeseeable: Review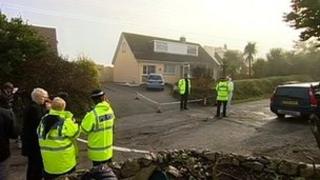 No-one could have foreseen a fatal fire in Cornwall which led to the death of a 10-year-old boy, a report has found.
Ben Philpotts, who had serious head injuries, died hours after the fire was started at his family home in Trevarrian, Newquay, in January 2010.
His mother Patricia also died and Ben's father Harold - the prime suspect who had mental health issues - died later.
But the serious case review (SCR) said Ben's safety at the hands of his father had not been sufficiently considered.
It said: "No agency had considered the subject [Ben] to be at risk of serious harm from his father and they thought the mother to be competent and willing to protect him from the excesses of the father's behaviour."
The review was carried out by the Cornwall and Isles of Scilly Local Safeguarding Children Board (LSCB).
Paranoid delusions
Some of the details of the review were issued in January following a Freedom of Information request, but Cornwall Council said the full report would not be published until after the inquests into the deaths "to avoid creating further additional distress to the family of the young person".
Despite no date being set for the inquests by Cornwall Coroner's Office, the council said the LSCB had taken the decision to publish an executive summary now because of the time that had elapsed since the review was undertaken.
The summary revealed that Ben's father had experienced mental health problems for two years and suffered delusional and paranoid symptoms.
It said that he did not always co-operate with those treating him.
An investigation by Devon and Cornwall Police suggested Mr Philpotts was responsible for Ben's head injuries and for setting the fire at his home, the summary added.
The review said mental health staff and the police did not share information effectively with each other or children's services and did not find out how Harold Philpotts' mental illness was impacting on Ben, nor did they make sufficient effort or seek opportunities to speak to him.
The SCR concluded that the violent death of Ben and his mother at the hands of his father could not have been foreseen, although it added that practices within mental health services and communication between agencies had "weaknesses".