Housing built for Cornwall farm workers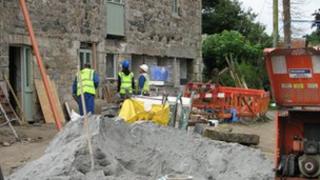 Accommodation for struggling agricultural workers is under construction in Cornwall.
The £1m conversion of a barn by the charity the Addington Fund should be completed by October.
Four homes and four work units are being built in the old barn at the hamlet of Ruthvoes, near Indian Queens in mid-Cornwall.
The aim of the project is to provide viable business options for local farm businesses and families.
The Addington Fund was set up after the 2001 foot-and-mouth outbreak and the charity is working in conjunction with Cornwall Council.
Ian Bell, the fund's director, said: "The workshops are modern and bright.
"We're hoping we're creating opportunities to get people started, then they can move on to greater things."
It is the second project of its kind from the charity. In 2005, it completed its first affordable housing development in Cornwall.
The Trevorva project, at Probus near Truro, created five affordable homes from three redundant barns targeted at retired tenant farmers.