Charlestown harbour on sale for £4.4m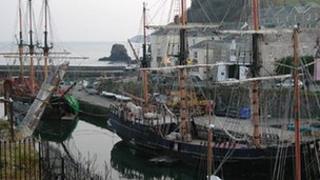 A Grade II listed 18th Century harbour in Cornwall has gone on sale for £4.4m.
Charleston, one of the few British ports still in private hands, has become a popular film setting.
St Austell Bay councillor John Oxenham called for the port's identity and character to be maintained and said: "Village businesses rely on the attraction for their income."
Robin Davies, who has owned the harbour for 20 years, said he wanted the harbour to go into the "right hands".
Built in the late 1700s by Charles Rashleigh, Charlestown port was bought by Square Sail Shipyard Ltd in 1994.
'Unique and interesting'
It became home to three square-rigged sailing ships and was the setting for films such as Alice in Wonderland and The Eagle has Landed and most recently the new Dr Who series.
Mr Oxenham said: "It is a Unesco world heritage site and whoever should buy it would have to be careful to preserve the identity and character of the place, that's what makes Charlestown so unique and interesting.
"I personally want to see the tall ships remain there, they are a huge part of the attraction of Charlestown and the surrounding properties all rely on this, the film industry included."
The total package includes properties, the waterfront, beaches and marine training and charter firm Square Sail which owns two square rigged sailing ships.
The site's owner, Square Sail managing director Robin Davies, who is approaching his 70th birthday, has decided to retire.
He said: "We have very carefully put together a sale structure in the hope that we will attract the right buyer."