Cider producers in Devon and Cornwall warn of price rise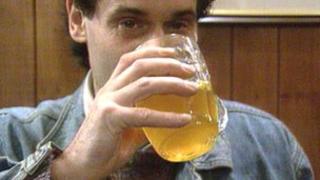 Cider prices could rise dramatically if plans to impose a minimum unit price on alcohol go ahead, South West cider makers have warned.
The government wants to stop shops and supermarkets from selling cheap booze as part of its alcohol strategy.
Supporters have said it is a crucial way to reduce anti-social drinking.
But Devon and Cornwall ciders producers said charging at least 40p for a unit of alcohol would make strong cider more expensive and could hit their business.
Sales drop
A consultation exercise is under way to set a level for England, while in Scotland a minimum unit price of 50p has already been set.
The National Association of Cider Makers said higher prices would have no effect on binge drinkers - but could drive their members out of business.
Vernon Shutler from Countryman Cider, which is made at Milton Abbot on the Devon and Cornwall border, said a minimum unit would have an impact on its customers.
"If this type of measure was introduced, sales would drop, and eventually you'd think you have to close down if you don't get the sales," he said.
But Dr Sarah Wollaston, the Conservative MP for Totnes, said: "If people are selling ultra cheap cider direct from the farm gate then they will be taken in by minimum pricing."
The government has estimated that irresponsible drinking and associated anti-social behaviour costs the UK about £21bn a year.