Major Bob Harrison researching Penzance war heroes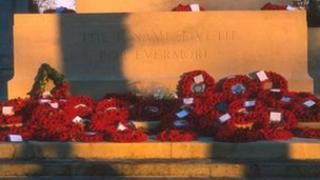 A retired Army officer has spent the past eight years researching the stories behind all the names in the Penzance Book of Remembrance.
Major Bob Harrison, who lives in the town, spent hours searching through old newspapers to find out what happened to those who died in World War I and World War II.
He also discovered 850 bombs had fallen on Penzance during WWII.
Maj Harrison said war memorials, or books of remembrance, often contained little more than a name and not the detail of what happened.
"Eight years ago I was in Paul Church [in Penzance] looking at the memorial there and I decided to research the names," he said.
During his work, Mr Harrison uncovered some interesting stories about Cornwall's war dead, including Alec Forbes, the only son of Stanhope and Elizabeth Forbes, who founded the Newlyn School of Painting in 1899.
Maj Harrison said: "He went to France in August 1916 and just a week later, he and three other young officers, were killed in action."
During his research, Maj Harrison found a comment made by Stanhope Forbes which said: "He saw beyond the filth of battle and thought of death a fair price to pay to belong to the company of these fellows."
As part of his research Maj Harrison said he had "read every edition [of the Cornishman] from September 1914 up until about 1955".
Hospital bombed
He also unearthed details about a tragic incident that happened in during World War II.
Maj Harrison said: "Rachel Appleby was a staff nurse at the Royal Cornwall Infirmary which was bombed in August 1942. She and 14 other people were killed on that day.
"Our oldest casualty was 76-years-old and the youngest, sadly, was just 10 days."
Maj Harrison has now researched war memorials from the Isles of Scilly to Truro.