Cornish fishermen oppose Falmouth dredging proposal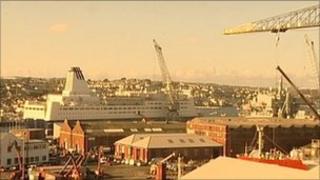 Fishermen in Falmouth have said they will oppose any plans to use taxpayers' money to pay for the dredging of the town's harbour.
Cornwall Council said it would help cover the costs of any full-scale dredging - something it said could total more than £20m.
Opponents have started a petition urging the council to reconsider.
But Sir Graham Watson, MEP for the region, said the whole of Cornwall could benefit from the project.
Fishermen in the area said they have not been properly consulted about the plans and they are worried about what the dredge could mean for their livelihoods.
Experimental dredge
One fisherman, Chris Ranger, said: "Previous fisheries, such as the Thames cockle fishery and an oyster fishery in Southampton, were completely wiped out by a dredge nearby. So the two things we can look back on were disastrous."
Proposals for a small-scale experimental dredge were given the go-ahead earlier this month.
There are wider plans to create a new deep water channel into the docks.
Backers of the large-scale dredge have said it would help bring more business into the town.
Councillor Chris Ridgers, cabinet member for economy and regeneration, said: "It's vital that we have this scheme to encourage more people into the port.
"We need to bring more business in. It provides a guarantee for the future of the port."
The project is currently on hold whilst an Environmental Impact Assessment is carried out following concerns over the adverse affect the works could have on marine life in the harbour.
MEP Sir Graham Watson said: "A solution needs to be found that addresses the concerns of environmental campaigners but ultimately does not block the economic development of a key part of the Cornish economy.
"Companies involved and the port authority will talk because we do have to recognise that there are other livelihoods potentially at stake here.
"There are are fishing interests, but I'm sure they can be resolved with proper discussion.