Councillors criticise Cornwall free school funding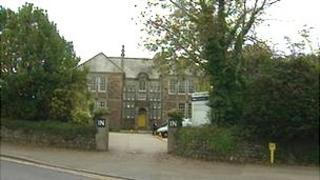 Government funding for Cornwall's first free Catholic school has been described as "detrimental" by a councillor.
St. Michael's Catholic secondary, which can take 100 pupils, will open on the site of the former Camborne Girls' Grammar School.
Councillor Neil Burden has criticised the decision to fund the school as "unfair" for other Cornish schools.
The school will open in Camborne in September but is understood to have so far filled only 60 places.
In April, Joyce Sanderson, chair of St Michael's steering committee said the school had received "expressions of interest from 470 pupils".
St Michael's head teacher Neil Anderson has previously said there was a "real need" for a smaller school offering faith-based learning.
But he has admitted that delays in securing the school's funding agreement - which was only announced two weeks ago - had made it difficult for the school to attract students.
Mr Burden said the fact that the school still had "surplus places" was going to be detrimental for other schools and children.
"I think we need fairness in this and we'd love to know how much per pupil the department for education is actually paying for this school," he said.
The Department for Education bought the old grammar school site in Camborne for about £700,000.
Liberal Democrat councillor Geoff Brown who is shadow cabinet member for education on Cornwall Council, said: "What we should be aiming for is high quality education for every child in Cornwall.
"The investment should be put into all the schools in Cornwall so we create an even playing field for everybody."
Education Secretary Michael Gove claims free schools will "raise standards in communities where the need is great".
They can be set up by groups of parents, teachers, charities, businesses, universities, trusts, religious or voluntary groups, with funding direct from central government.