£160m 'awarded' in Cornwall by mail scammers, council says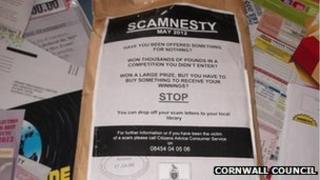 More than £160m has been "awarded" to people in Cornwall through scam mail, Cornwall Council has said.
About 40 people handed in the mail during an appeal by the authority in May.
More than 240 individual letters were given to Cornwall Council during the month-long appeal.
Trading standards has since been in contact with people receiving "excessively large amounts" of scam mail to offer advice.
Julia Groves, trading standards officer, said: "One of the most common scam approaches was the advanced fee scam.
"Personalised letters are sent, claiming to be from a business relations manager in Hong Kong, who wishes to transfer a large amount of money using the recipient's bank account details - the recipient is promised a large fee.
"The scammer is simply after your bank account details, which they can then use or sell on to your detriment."
Cornwall Council said almost half of people who handed in the mail had been targeted by advanced fee scammers.
The mail is being analysed by trading standards and will be sent to the Consumer Education Liaison Group (CELG) for investigation.
The CELG is a government organisation offering consumer education, advice and information.