100,000 people visit Cornwall's Heartlands attraction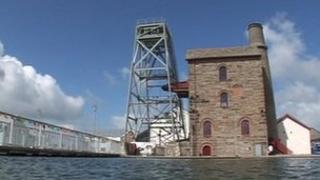 A free visitor attraction in Cornwall, which opened three months ago, has received 100,000 visitors.
The Heartlands project, the county's first free cultural playground, was built on derelict mine land at Pool.
Malcolm Moyle, the chair of the Heartlands Trust, said it had been "an unbelievable first few months".
The attraction was built with £35m funding from the Big Lottery fund, Cornwall Council and other organisations.
The development took about four years to complete, with neglected and abandoned buildings restored, and new open-spaces introduced.
Mr Moyle said: "We didn't really know what would happen until we opened those gates, but we are so pleased that people near and far have come along here to Pool and taken our beautiful site to their hearts."
The free attraction now boasts World Heritage Site exhibitions, art and craft studios, botanical gardens, adventure playground, a cafe and water features.