Olympic sign pulled down from Cornwall church centre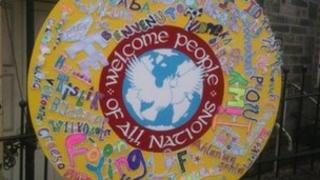 Vandals have pulled down a large hand-made Olympic sign from the front of a church centre in Cornwall.
Members of Newlyn Trinity Methodist Church, guides and brownies spent hundreds of hours making the celebratory sign at The Centre in Newlyn.
The sign was pulled down on Monday night and lettering was found scattered on the streets nearby.
Church development worker Jeremy Drew said it was "really very sad".
Depicting the world with a peace dove, the surrounding lettering read "Welcome people of all nations"
Mr Drew said the sign - which was put up on Saturday - had been taken and "we don't know where it is".
"It must be somewhere, possibly in someone's back garden or dumped somewhere," he added.
Mr Drew said the community were supporting Olympic rower Helen Glover, who grew up in Newlyn and won Team GB's first gold with her team-mate Heather Stanning.